2017 China Mass Entrepreneurship & Innovation Week Forum
(Boston,USA)
Event Sponsor:
2017 China National Mass Entrepreneurship & Innovation Week Committee
Organizers:
China National Eastern Tech-Transfer Center
Boston Chinese Investment Club (BCIC)
【Introduction】
Boston Chinese Investment Club (BCIC) will host a Mass Entrepreneurship & Innovation forum in Boston, as part of the the Mass Entrepreneurship & Innovation week initiative by China's National Development and Reform Commission and China Association for Science and Technology. The forum focuses on technology innovation in artificial intelligence, big data, biomedical, block chain, fintech and related fields. Mass Entrepreneurship & Innovation week is advertised on media platforms within China and globally.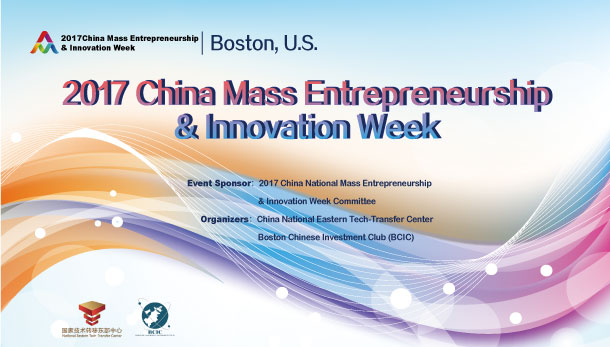 【Invitation to Startups】
We would like to invite you to showcase your innovative project during the Mass Entrepreneurship & Innovation Week. Startups in all stages are welcomed. It is a great opportunity to promote your project through media platforms, obtain funding from potential investors and establish connection with Chinese innovation hubs through BCIC's broad network of Chinese venture capital and government resources.
The Mass Entrepreneurship & Innovation forum will be hosted on September 9th (Eastern Standard time). If your firm is interested in presenting, please send your firm introduction and business proposal to roadshow@bcicglobal.org. Even if you cannot make it to the event, you are welcomed to send us your proposal. BCIC offers a great platform to present innovative projects and connect with potential investors through our regular round-table discussion and roadshows.
【Agenda and Registration】
Venue:MIT E25-111.
1:00pm – 5:00pm: Biotech session: keynote speeches, startups demo
5:00pm – 6:00pm Dinner, Social mixer
6:00pm – 9:00pm: AI, Blockchain, Fintech session: keynote speeches, startups demo
Please refer to the forum brochure for final schedule: Brochure
Registration:https://www.eventbrite.com/e/2017-china-mass-entrepreneurship-and-innovation-forum-boston-tickets-37358214425
【Speakers】
Confirmed keynote speakers:
Frank Hu, M.D., Ph.D., M.P.H.   
Director, Harvard Transdisciplinary Research in Energetics and Cancer Center, Department of Nutrition, Harvard School of Public Health
Shen Luan, Ph.D.   
Director of Regulated Products and Interim Director of BRIMS Center at Thermo Fisher Scientific
Shuqi Chen
 Founder, CEO and Chairman of the Board of IQuum, Inc
Ari Eisenstat
Co-Executive Director of the UN Global Sustainability Index Institute
Peter Luo
CTO of Wanxiang Blockchain
Hongyan (Steve) Sun
Head of Yintech Financial Innovation Labs, Boston and Shanghai, of Yintech Investment Holdings
【BCIC Introduction】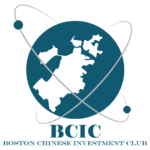 Boston Chinese Investment Club serves as a Boston centered platform for exchanging ideas, knowledge and information for 2000+ active members in US and China. BCIC aims to build an ecosystem that connects venture capitalists, corporate VCs, angel investors, technology transfer professionals, senior executives of early stage and emerging growth companies, university researchers, incubators and premier service providers across borders.
We hosted a number of seminars, roadshows, and lectures in the past, covering various hot topics in Finance, Technology and Healthcare. Our previous keynote speakers included Mr.Larry Summers (former US finance Minister), Mr. Michael S. Piwowar (former US SEC Commissioner), Mr. Qi Bin (deputy general manager of China Investment Corporation), Mr. Li Feng (former IDG Partner), to name but a few. We work closely with both Chinese and U.S. VC firms, and have established strategic cooperation with famous incubators including TechCode, one of the top ten most well-known incubators.
【BCIC Sponsors】
Eastern Link Capital: (http://www.easternlinkcapital.com/)

Insigma Hengtian Software: (http://www.hengtiansoft.com/)

Mass Ave Capital

【Collaborators and Media】
We are thankful to the collaborators of this event (including incubators, investors, and media) . If you are interested in collaborating with BCIC on event promotion and deal sourcing, please contact info@bcicglobal.org.